Landscape Pro Multi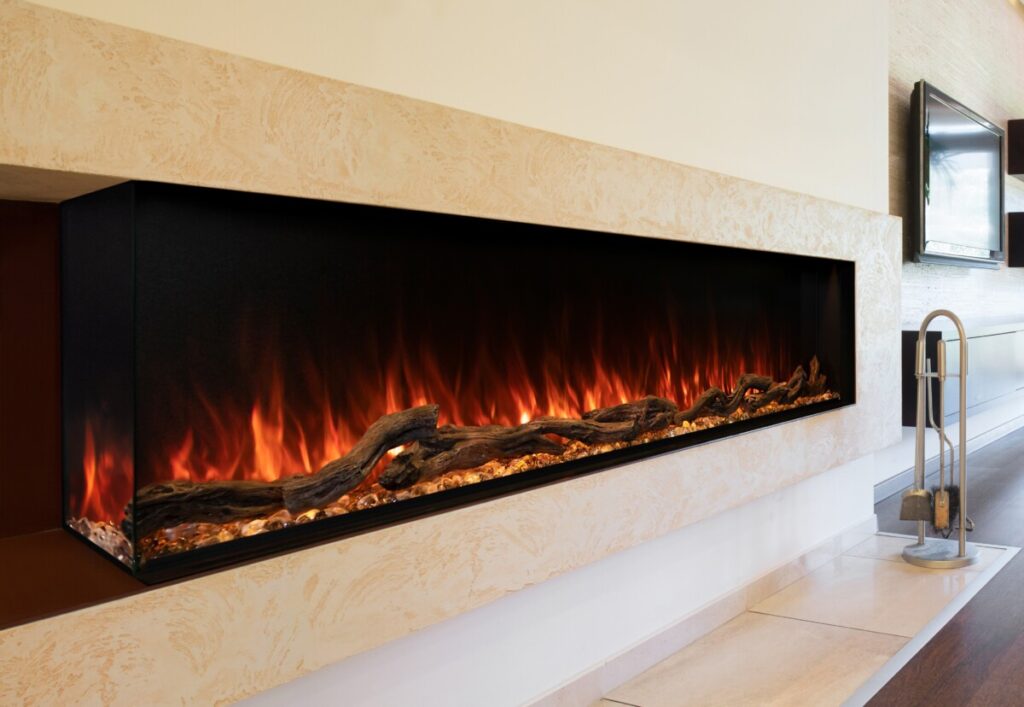 Installation Options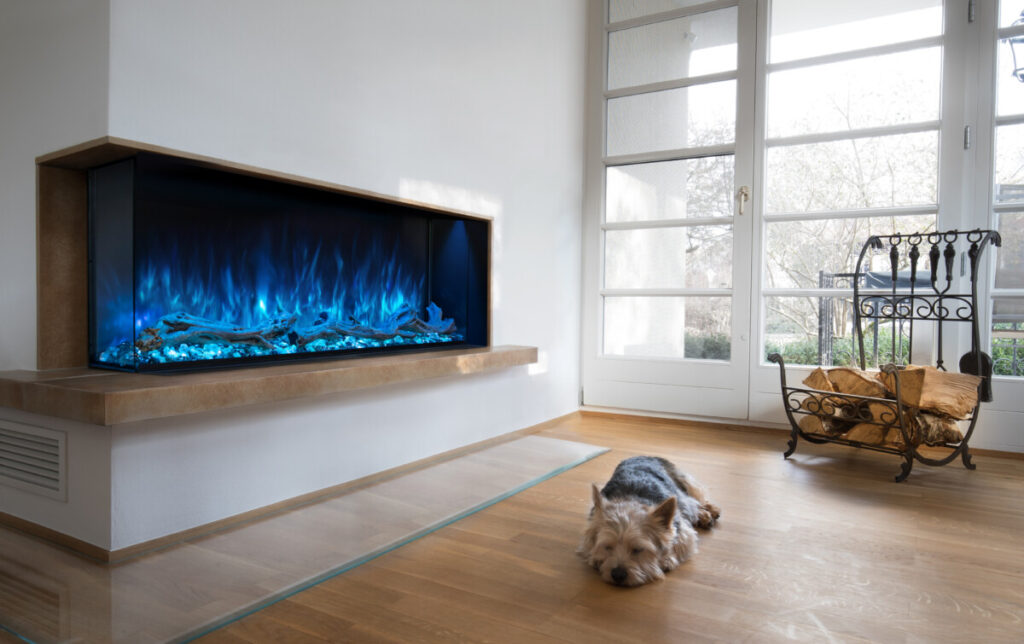 The Landscape Pro Multi is the most versatile & customizable electric fireplace in Modern Flames extensive line up of industry changing electric fireplaces. The Landscape Pro Multi features 12 different installation options, 4 different sizes (42", 54", 66", 78"), independent or sync flame, up lighting and down lighting, 5,000 – 10,000 BTU heater & elegant driftwood logs as the standard media.
Our ultra-bright RGB LED lights illuminate the rear flame, down lighting enhances the driftwood log set & an active ember bed gives a burning coal effect. The RGB nature of the lighting means that all three areas can be changed to any color in the color spectrum. A NEW vibrant back screen enhances the flame color to keep a crisp look even in direct sunlight.
The hand painted driftwood logs along with smoke glacier glass & clear stones are the standard media for all Landscape Pro Multi models. Upgrade media options include ½" reflective glass & river stones.
The controls are as versatile as the fireplace itself. Operations include a standard multi functioning button hand held remote or control the Landscape Pro Multi with your phone by downloading the Modern Flames remote app. From the palm of your hand use the color wheel to change all three lighting sections independently or in sync, turn on/off the heat or turn the flame back to the factory setting color combination. Additional upgrade controls include a wireless wall mount touch pad featuring the same previously mentioned functions.
Installation of the Landscape Pro Multi allows install options for wall mount, 2" x 4" recessed mount or Built-in clean face flush mount. The versatility of these installation allows the Landscape Pro Multi to be configured as a Single Sided, Left Corner, Right Corner & 3 Sided (Bay) in any of the 4 sizes (42", 54", 66", 78"). Installation options are endless and perfect for any residential or commercial application.

Color Options
---
Landscape FullView 2 Series

The Landscape FullView 2 Series is available in 40″, 60″, 80″, 100″ & 120″ formats.
The Landscape FullView 2 Series built-in electric fireplace is the first of its kind creating a perfect substitute for a linear gas fireplace. This unique frameless design allows for edge to edge flame presentation as well as unlimited surround capabilities. Available in 5 different lengths for any application as well as 2 customizable flame bed options for different fit and finishes. An optional 2 stage heater is also included for supplemental heat up to 450 square feet.
See the brochure HERE
---
Landscape Pro Slim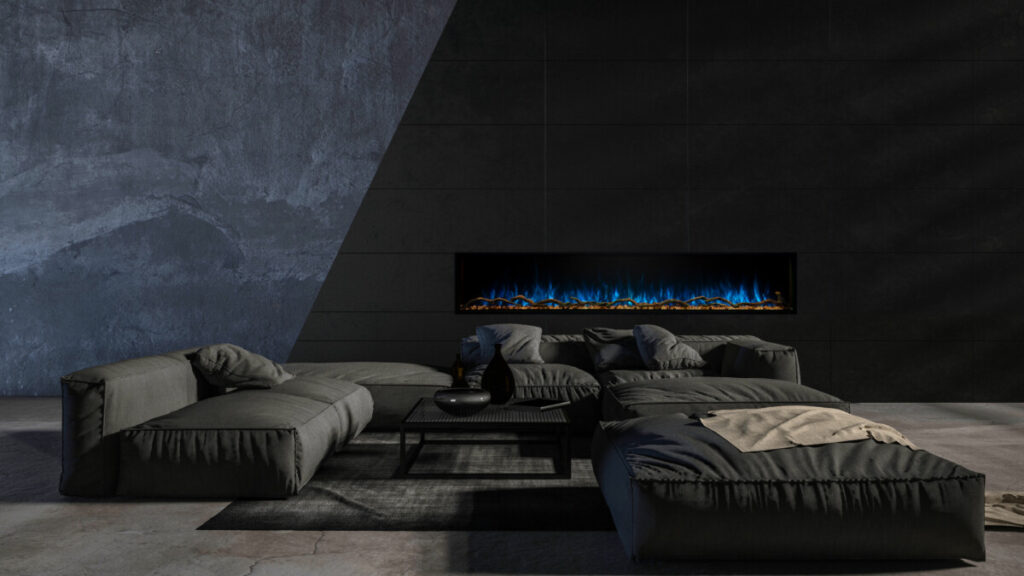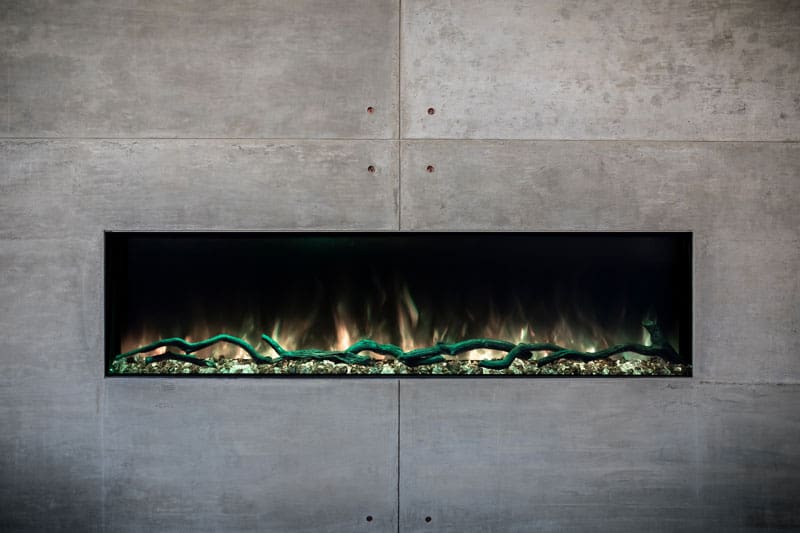 The Landscape Pro Slim electric fireplace is the perfect option for any customer looking for a unique frameless look installed into a 2" x 6" wall. This new Slim model in the Landscape Pro Series features independently controlled flame plus up & down lighting with an edge-to-edge viewing area. This Pro Series model features NEW Hybrid-FX™ flame technology, high intensity LED lighting and active ember bed, Driftwood Logs & Wi-Fi controls all as standard features. The Landscape Pro Slim features a 5000 BTU heater, remote and wireless control and comes in 4 linear sizes, 44", 56", 68" and 80".
---
Spectrum Slimline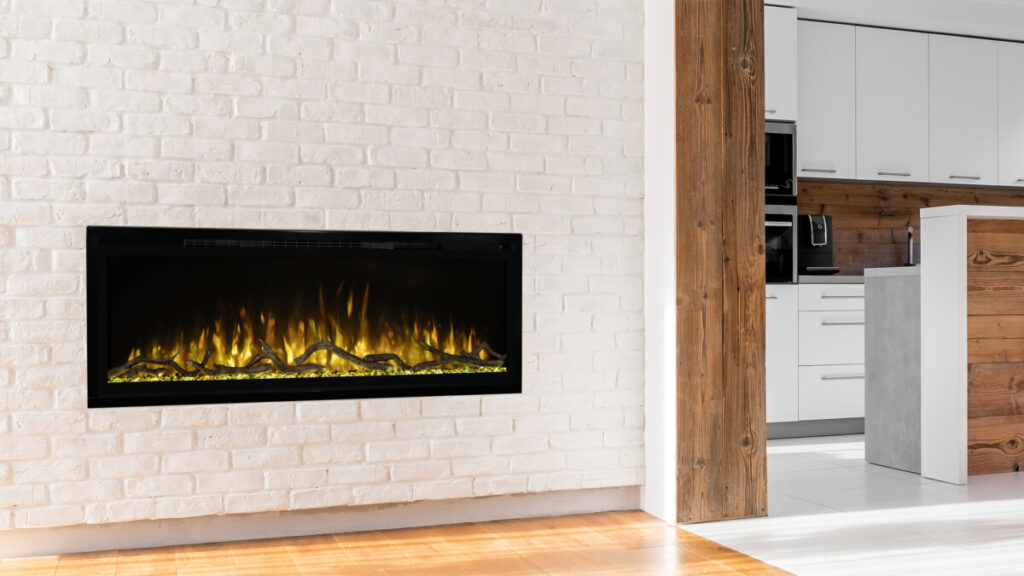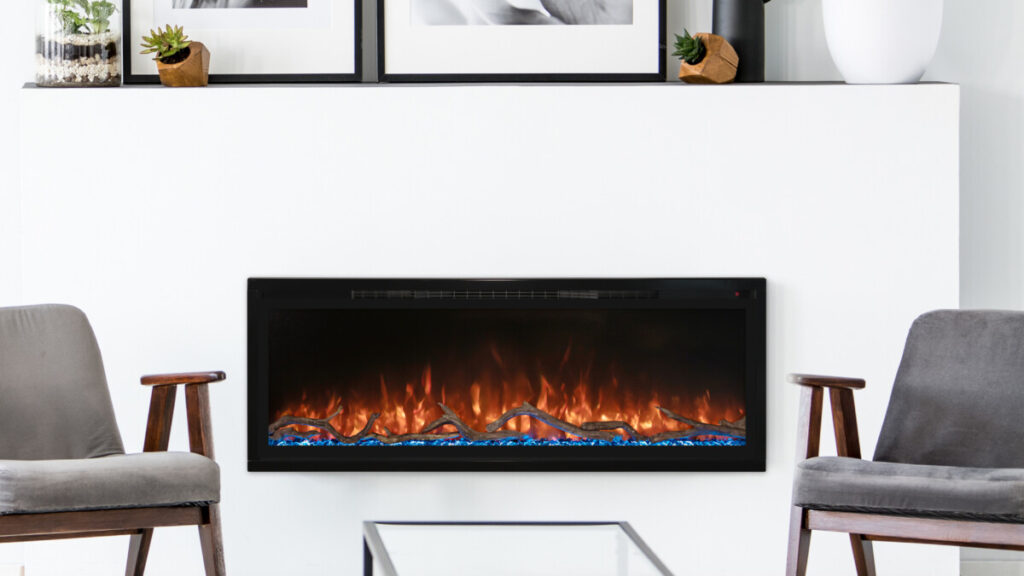 Modern Flames new Spectrum Slimline has revamped the recessed electric fireplace category. This 2" x 4" or wall mount installation electric fireplace has removed the large black glass surround and is finished off with a sleek 5/8" trim to maximize the viewing area. Hardwoods or tile and be finished right up to the opening of the fireplace while still keeping in mind serviceability. The Spectrum Slimline features high intensity flame and ember bed lighting showcasing our new Hybrid-FX™ flame technology independently controlled with 12 different color options. Other standard features include variable & thermostatic heat, variable motor controls, timer, push button and remote controls. The acrylic crystal media and driftwood logs are both standard media and the Spectrum Slimline is available in 50", 60", 74" & 100" sizes.
---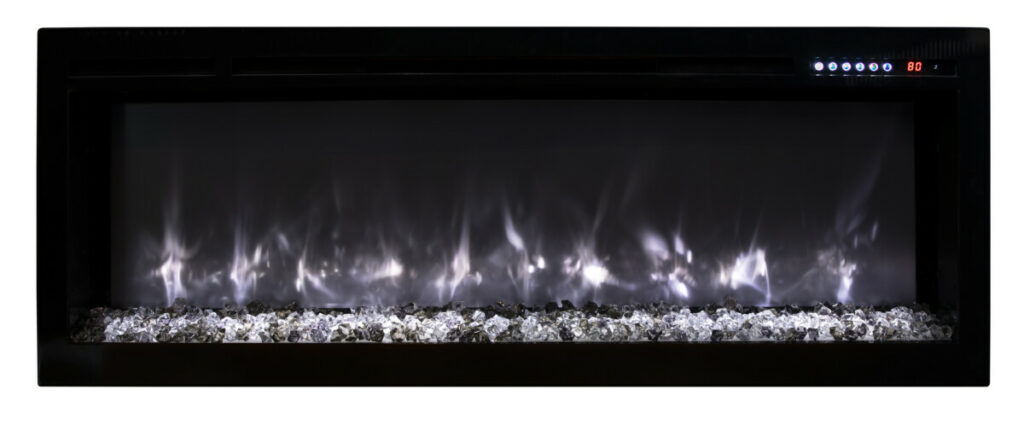 Spectrum Series
The Spectrum Series is available in 3 different models. A 36" traditional box, 50" linear box and a 74" linear box complete this line.
Modern Flames Spectrum Series Built-In Flush Mount Electric Fireplace brings the flame versatility and size options to the conventional electric fireplace. Modern Flames award winning flame appearance gets a tune up with 12 different flame color combinations to choose from. Projecting onto our gray back screen, the colors shimmer through the ember bed and create crisp clean flames through the whole color spectrum. Multicolor glacier crystal glass finishes off this contemporary ember bed. Finally a thermostat, touch control and remote round out the operations of this series.
See the brochure HERE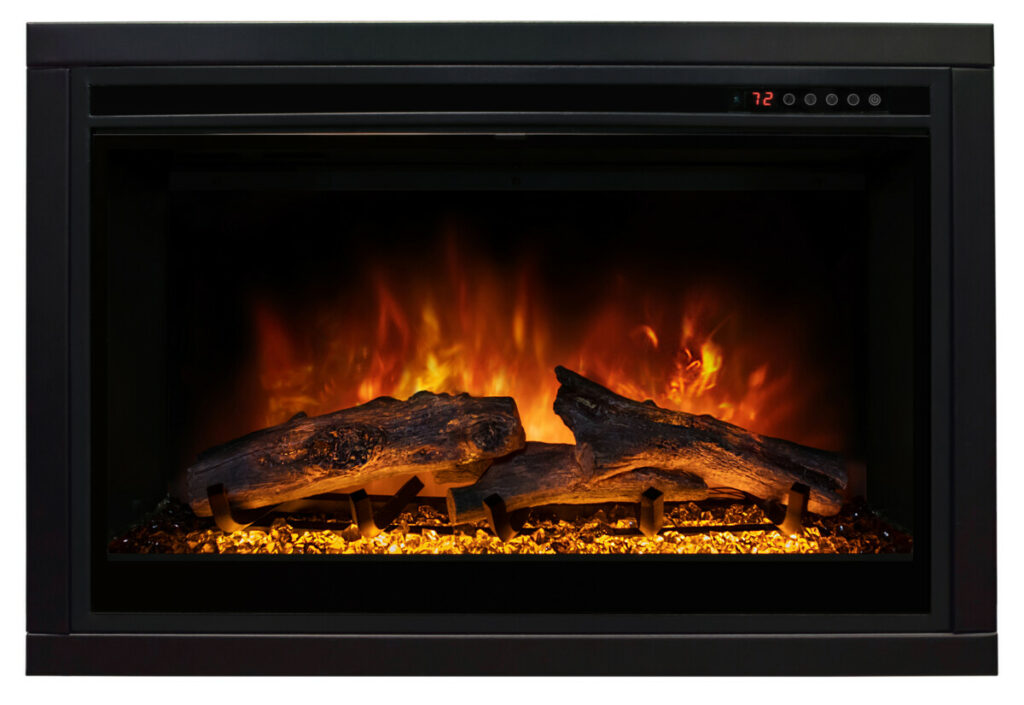 ZCR2 Insert
The ZCR2 Series is specifically designed to insert into an existing 30" – 42" wood burning fireplace and provide a beautiful and economical substitute to a gas log set or gas insert. Simply run power to your fireplace & insert the ZCR2 into the firebox without the need of screws or attaching hardware. The ZCR2 comes standard with new canyon driftwood logs & contemporary glacier glass for a traditional or contemporary look. A standard 4800 BTU heater & touch screen controls with a remote are all included. Finish off the ZCR2 with one of five different trim options to fit a plethora of unique firebox openings.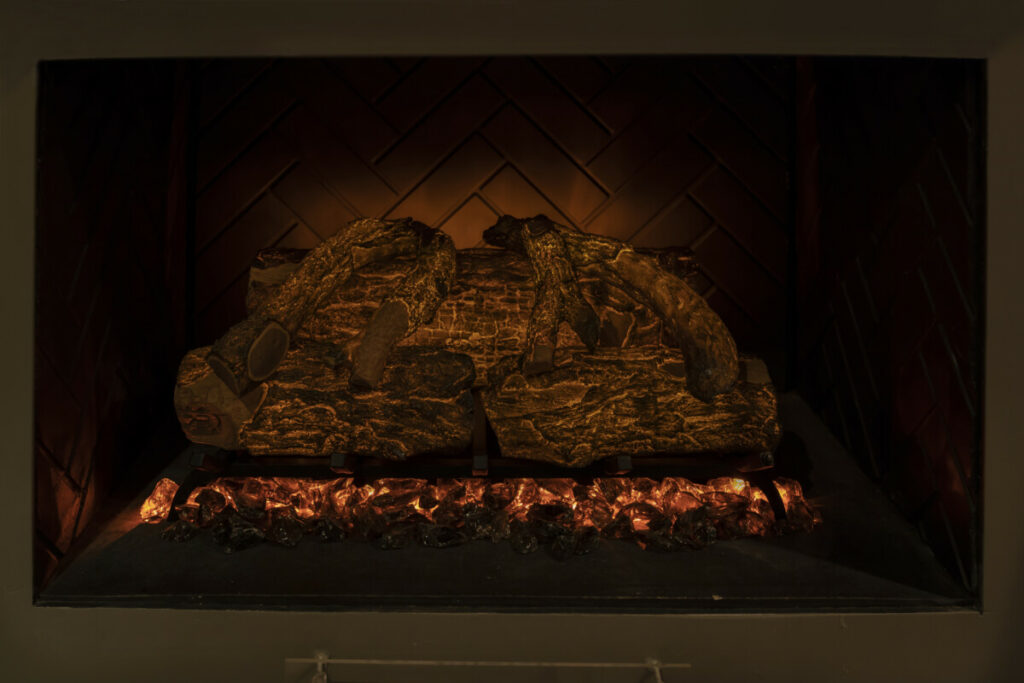 Sunset Charred Oak
1ST BATTERY POWERED ELECTRIC LOG SET
This revolutionary product is the first ever battery powered, Wi-Fi enabled electric log set that is designed to simply be unpackaged and placed inside an existing wood burning fireplace without running an electric line.
Cutting Edge Battery Technology
Found in electric cars like Tesla Model S
Wi-Fi Capabilities for Smart Controls
Including ability to connect to Google Home, Amazon Alexa & Homekit
Breakthrough Resin Compound
Allows higher detail in logs & coals